20 years of Tregaskis Brown
Karen Clarke | Mar 25, 2022
27th March 2022 marks 20 years in business for Tregaskis Brown. This is an auspicious milestone for any company and a great opportunity for us to reflect on how the business has grown and evolved since 2002. And of course, it's a time to celebrate all that the Tregaskis Brown team has achieved in that time.
We are extremely proud of the Tregaskis Brown journey, and the positive outcomes for the state sector in Aotearoa that our dedicated team of Partners, staff and associates have contributed to in the last 2 decades.
In the beginning…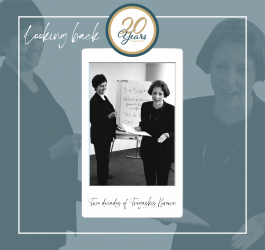 The origins of Tregaskis Brown are of two motivated professional women, Karen Tregaskis and Tracy Brown, who shared the common goal of wanting to facilitate change and provide expert support to the NZ state sector. From humble beginnings – putting together their first pitch over a flat white in a local café – they purposefully created a diverse team of professionals working to the same goals. They soon established their office within Te Whanganui-a-Tara, Wellington, in close proximity to many of New Zealand's public sector agencies who would become our clients.
From the beginning the vision was clear – Karen & Tracy instilled their passion for delivering change through pragmatic and individualised solutions, consistent quality and always striving to meet client expectations, thus creating a consultancy firm with a reputation second to none. With Tregaskis Brown it has always been about relationships, people are at the heart of what we do - relationships matter to us - a lot.
"We were working as contractors in the public sector, but we had a vision to create a company that was different, with high ethical standards where it would be more about the client than ourselves, a company that was enduring and sustainable. Essentially, we loved consulting but didn't want to operate as so many consultancy businesses do, where it's all care and no responsibility. Early on we were challenged by a business advisor to guarantee our work or your money back, which we have offered ever since."
- Karen Tregaskis, Founding Partner, Tregaskis Brown
Present-day…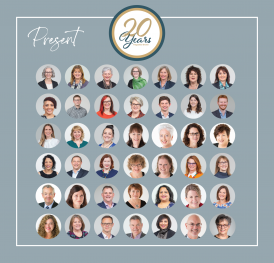 Tregaskis Brown now has over 40 active team members including Karen Tregaskis and other partners, associates, consultants and business support staff. Each member plays an integral part in creating and maintaining the Tregaskis Brown brand.
Still at the business's heart is that passion to provide expert support to our clients to help lift performance and achieve better outcomes for all New Zealanders.
Over the last 20 years we have worked with more than 250 central and local government agencies, NGOs and private organisations – many of which are return customers. We are happy to say that some of our earliest clients (including Ministry of Justice, Department of Corrections and Inland Revenue) are still clients today.
Our recent achievement of Tier 1 provider status on the All of Government (AOG) Consulting Services Panel is a reflection on our expertise, professionalism and commitment over the years servicing the state sector.
"The 20th anniversary of Tregaskis Brown is a wonderful milestone for the company and a testament to the high regard in which our clients hold us. As we say in our values, we never forget that our success depends on our clients' success. That success however is because we have the best people – our team of staff and associates who make it their mission to deliver to the highest quality every time. We would like to acknowledge the people who have helped Tregaskis Brown to attain our reputation for delivering excellence. They are the reason we are trusted advisors to the public sector – we never forget that!"
- Karen Clarke, Chief Executive, Tregaskis Brown.
Looking ahead...
The Tregaskis Brown team is excited to be moving into the next stage of our journey. We are planning to strengthen our 3 primary practices (Delivery, Investment and Business Performance & Change) and increase our leadership and pool of experts.
We will continue to collaborate with partner organisations that offer complementary services and share our values.
There is much to be done - and our place as trusted advisors to our many current (and prospective) clients throughout New Zealand remains the foundation of our success now and in the years to come.
The Tregaskis Brown team would like to say a heartfelt thank you to all past and present employees, associates and clients for all of their support throughout the years. Without it, we wouldn't be where we are today. We look forward to continuing to provide top-quality services and support to the state sector for another 20 years and beyond!