HAVE A PLAN
Know your deadlines, and work backwards to ensure you have identified when you must restart it. This will begin to tell you whether you can simply pick it back up, or will need to rescope, or need to renegotiate delivery dates.
Identify your priorities. Where does it fit within your agency's priorities? Will these still be valid? Will budget priorities have changed, meaning you may need to review it? What will you need to do to get it back up running and visible?
Identify your risks. What happens if we do nothing? How can any risks be mitigated? Are there other projects that depend on this work (dependencies)?
Identify your stakeholders, and communicate, communicate, communicate. Tell them what you are doing, and why. And when they can expect to hear from you again. And stick to it and keep faith – this will preserve and even build relationships and understandings.
Identify the resources you will need when you do pick it back up. How will these be deployed? Will there be capacity? How will you ensure they are still available when you need to restart?
Be alert to opportunities. Will events make this work more relevant? Can it be reshaped to deliver even better value in a potentially new and different environment? Remember the old adage – good policy is 10% quality, 90% opportunity. The best idea can go nowhere if the timing isn't right.
And finally - Document. Record where everything is at, and ensure this record sits on the top of any virtual or real folder.
WHAT ARE THE OPTIONS?
There may be many, but there are 4 main categories: Refrigerate, freeze, do, or stop. The diagram below sets out one way to think about them.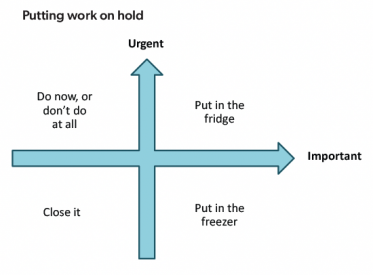 Put it in the fridge, with a "best before" date on it. This is work that is both important and urgent, and there will be expectations that it will get up and running once the current crisis is easing. The critical thing here is identifying key markers – when will the current work lose relevance? Or become more critical? You may need to make decisions at a point in time about the future. It may be that it is losing relevance – in which case put it in the freezer.
Put it in the freezer, with a "use-by" date on it. This is work that is still important, but a delay is not fatal – or not yet. Know when you will need to re-examine it, to identify whether it needs to be thawed, or, taken out and put out of its misery.
Put it out of its misery now. If work is not going to deliver future value (ie it is a "now" project) – or perhaps it never was going to, now is the time to quietly dispose of it. Tie off loose ends (eg any dependencies) and close it.
In all cases, tell your partners, stakeholders, and other parties with an interest what you are doing and why. Especially Ministers.